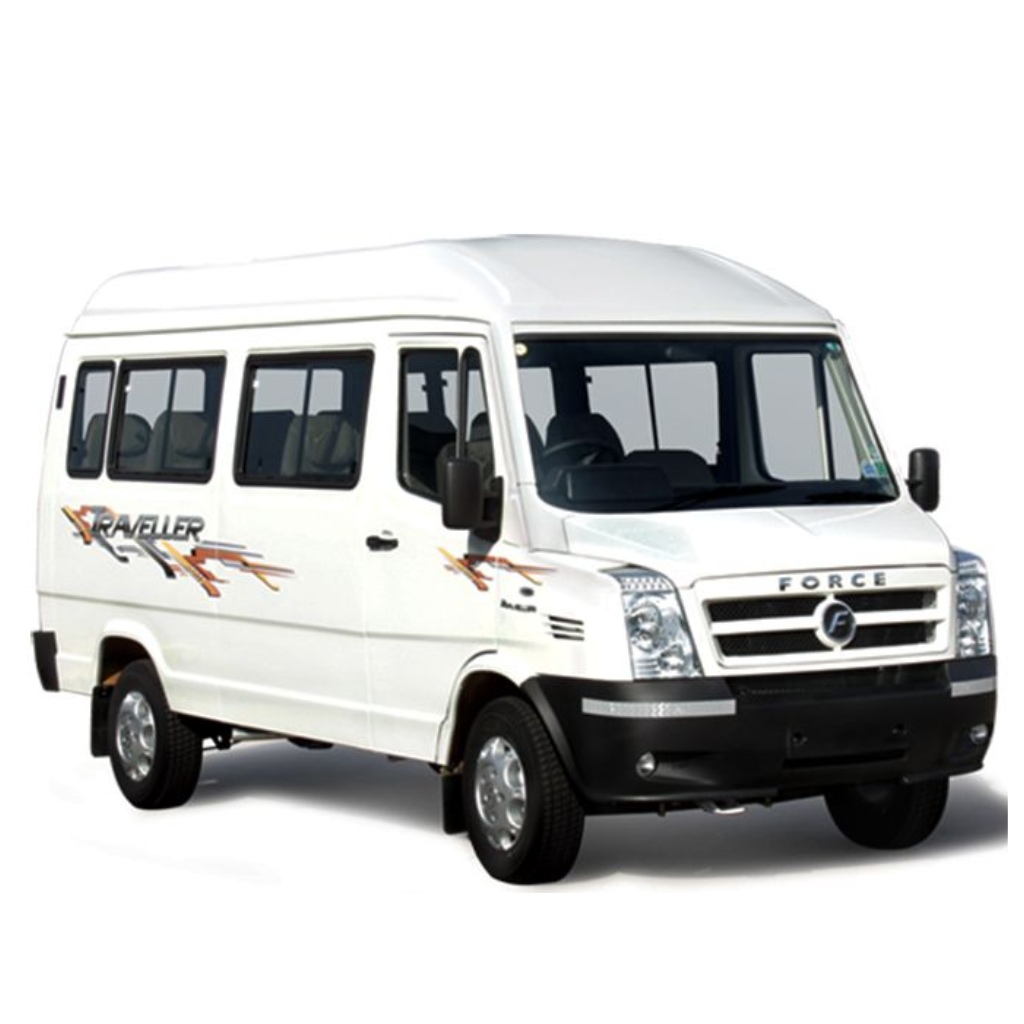 A tempo traveller is a spacious, multi-passenger vehicle primarily designed for long-distance travel. It surpasses the size of a standard car and is typically capable of accommodating between 9 to 12 passengers. These vehicles are well-suited for extended journeys, boasting comfortable seating, ample storage space, and often come equipped with onboard entertainment systems. If you're looking to hire a tempo traveller in Srinagar, Kashmir, you're in luck. We offer a comprehensive range of tempo traveller services in Srinagar, including 12-seater, 14-seater, and 17-seater options. To make your booking process convenient, here's our tempo traveller Srinagar online booking contact number: 8082022260.
Tempo Traveller in Kashmir has emerged as a popular mode of transportation for tourists visiting the picturesque region. With its spacious seating capacity and comfortable interiors, the Tempo Traveller provides a convenient and efficient means of exploring the diverse landscape of Kashmir. We offer unbeatable deals for Tempo Travellers in the breathtaking region of Kashmir. With us, you can pay for a one-way journey to any destination in Kashmir. Our priority is your safety and comfort, and our Tempo Traveller services are designed to fulfill all your travel expectations. We take pride in providing personalized guidance and services tailored to your specific travel needs. Our ultimate goal is to bring smiles to our customers' faces and create unforgettable memories during their journey.
We offer a variety of Tempo Traveller options to cater to your specific needs, including 9-seater, 12-seater, 14-seater, 15-seater, and 17-seater Tempo Travellers in Srinagar. Our services are available round the clock, ensuring you have access to assistance whenever you need it. We take pride in delivering exceptional and friendly customer service, making the booking process for cars, cabs, or Tempo Travellers simple and hassle-free. Our pricing is affordable, and you can trust in our unwavering reliability. Our Tempo Travellers are always kept clean and well-maintained to provide a pleasant and fresh environment for your journey. Your security, safety, and comfort are our top priorities, and all our vehicles are regularly serviced to ensure they are in optimal condition. We believe in transparent pricing with no hidden fees or surprises, and our competitive rates and packages are designed to suit your budget. Our commitment to quality and customer satisfaction means we provide Tempo Travellers and services tailored to your travel requirements. Our experienced drivers are polite, courteous, and knowledgeable about local and regional routes, ensuring a smooth and enjoyable ride. Plus, we don't charge extra for emergency services, offering peace of mind throughout your journey.
With our top-rated tempo traveller service in Kashmir, you can simply relax and enjoy the ride while our experienced drivers take you to your desired destination. We offer a diverse fleet of vehicles to choose from, ensuring that you can find the perfect one to meet your specific needs and budget. Plus, our competitive rates guarantee that you'll receive excellent value for your money. In addition to tempo travellers, we provide a wide range of taxi services in Srinagar, including comprehensive Srinagar taxi packages. So don't delay—contact us today at 8082022260 for the best tempo cab service in Srinagar, and let us assist you in planning your ideal Kashmir trip!
Key Features of our Tempo Travellers
Comfortable Seating: Our Tempo Traveller offers plush and cushioned seats, ensuring a relaxed and cozy journey for all passengers.
Air Conditioning: Beat the summer heat or stay warm during the winter months with our efficient air conditioning system, ensuring a comfortable journey in any weather.
Expert Driver: Our skilled and experienced driver will ensure a safe and smooth journey, providing you with a stress-free travel experience.
Local Expertise: Our drivers are well-versed with the local routes and attractions, enabling them to provide valuable insights and suggestions to make your trip truly memorable.
Trusted Service: We take pride in offering reliable and punctual service, ensuring that you reach your destinations on time and without any inconvenience.
Competitive Pricing: We offer affordable and competitive rates, ensuring that you get the best value for your money.
How to Book Tempo Traveller in Kashmir
Simply draft your tour plan and send it to us on our E-mail Or Call us on: 8082022260.
We'll provide you with the cost based on your preferred cab choice.
Once you're satisfied with the details, you can make the advance payment.
You can now secure your cab online through KASHMIR CAR BOOKING without any hassle, all from the comfort of your home.
Just follow these straightforward steps: call us at +91- 8082022260.
We'll provide you with the pricing, and once you've paid the minimum reservation amount, your booking will be confirmed.
Tempo Traveller in Srinagar
Kashmir Car Booking ensures that your Kashmir journey is unforgettable as we offer dependable and comfortable Tempo Travellers for rent in Srinagar. Give us a call on 8082022260 today to reserve your 13 / 14 / 17 seater Tempo Traveller and embark on a remarkable adventure through the captivating landscapes of Kashmir. With just one phone call, you can rent a Tempo Traveller in Srinagar and travel with your family in a single, convenient vehicle.
You can visit our site or call us at 8082022260 for instant booking. 
The Srinagar Tempo Traveller is a great choice for those looking for a spacious and comfortable transportation option in the Kashmir region. This multi-purpose vehicle can comfortably seat up to 12 passengers, making it perfect for large groups or families. The Tempo Traveller is equipped with a powerful engine, comfortable seating, and features such as air-conditioning, power steering, and power windows to ensure a smooth and enjoyable journey. The cab also comes with ample luggage space to accommodate all your travel essentials. Our experienced driver cum guide will not only drive the vehicle for you but also will act as a guide to make your journey more informative, fun and memorable. Book Tempo Traveller in Srinagar. We will take you to the best viewpoints and local hotspots, and share their knowledge and insights about the region's culture, history, and customs. With our best Tempo Traveller car rental service and experienced driver cum guide, you can travel in comfort and style to destinations like Gulmarg, Sonmarg, Pahalgam, Gurez and many more, with your friends and family.