Bangus Valley is a picturesque valley located in Kupwara, Jammu and Kashmir, India. It is famous for its pristine beauty, lush green meadows, snow-capped mountains, and crystal-clear freshwater streams. The valley is surrounded by dense forests of pine and deodar trees which contribute to the serene ambience of the place.
Bangus Valley in Kashmir is a picturesque destination that has been gaining popularity in recent years. Known for its lush green meadows, crystal clear streams, and towering mountains, the valley offers an idyllic retreat to nature lovers and adventure seekers alike. Bangus Valley is situated at an altitude of 10,000 feet above sea level. Bangus Valley is surrounded by dense forests of pine and fir trees.
If you want to find a destination that's different and remarkable in Jammu and Kashmir, you should include Bangus Valley in your itinerary. When you first set foot in Bangus Valley, you will feel that you have arrived at a place that is so wonderful that you could never imagine it being greater; you will feel satisfied with the greatest happiness.
Bangus Valley in Kashmir is a hidden gem that is waiting to be discovered by adventure seekers and nature lovers alike. Tucked away in the northernmost region of India, this picturesque valley boasts breathtaking landscapes, diverse flora and fauna, and a rich cultural heritage that is sure to leave a lasting impression on visitors.
The valley is surrounded by snow-capped mountains, deep valleys, and lush green forests, creating a stunning contrast of colors and textures. The crystal clear streams that run through the valley add to its charm and tranquillity. Whether you are looking for a quiet retreat or an adrenaline-fueled adventure, Bangus Valley has something for everyone. So pack your bags and get ready to experience the beauty of this magnificent valley in all its glory.
About Bungus Valley, Kashmir
Discover the breathtaking natural beauty and cultural richness of Bungus Valley, nestled in the heart of the Himalayas. Located in the northwestern district of Kupwara in Jammu and Kashmir, this hidden gem is waiting to be explored.
Known for its majestic snow-capped peaks, lush green meadows, and crystal-clear streams, Bungus Valley is a paradise for nature lovers and adventure enthusiasts alike. The valley is surrounded by dense forests of pine, fir, and deodar trees, providing a natural habitat for a wide variety of flora and fauna.
The fields seem to be natural tapestries strewn by divine hands. The Valley of Bangus is linked with extreme natural beauty, peace, and magnificence. The valley is also home to several migratory birds that flock to the region during the summer months, making it a bird-watchers paradise.
If you're looking for an off-beat destination that offers a perfect blend of nature and culture, Bungus Valley is the place to be!
How To Reach Bangus Valley
The best way to reach Bangus valley is by road. You can hire a private taxi from Srinagar, which is the nearest major city. The distance between Srinagar and Bangus valley is approximately 150 km, and it takes around 4-5 hours to reach the valley.
Another way is to board a train and then go to Bangus. The closest railway station to Kupwara is 64 kilometers away at Baramulla. At Baramulla you can hire a cab to reach the bangus valley. One of the best choices for renting a cab for Bangus Valley is KASHMIR CAR BOOKING. We will also guide you through the trip and make sure that your journey will be smooth and Hassle-free. Contact: 8082022260.
You can reach Bangus valley via road from Srinagar. Srinagar airport is the nearest airport to Bangus. From there hire a cab direct to Bangus. There are no shared taxis available for Bangus valley.
Things To Do In Bangus Valley Kashmir
Bangus Valley is a haven for nature lovers, with its pristine forests, sparkling streams, and panoramic views of the surrounding mountains. If you're looking for adventure, there are plenty of exciting activities to enjoy in this stunning region. Here are some of the top things to do in Bangus Valley:
Trekking: One of the most popular things to do in Bangus Valley is trekking. The valley is surrounded by beautiful mountains, and there are several trekking routes that offer breathtaking views of the landscape. Some popular treks include the Bangus Valley Trek, which takes you through the heart of the valley, and the Lolab Valley Trek, which takes you through some of the most remote and beautiful parts of the region.
Camping: There are several camping sites in and around Bangus Valley. The most popular campsites for camping are the Bangus Valley Campsite, which offers stunning views of the surrounding peaks, and the Lolab Valley Campsite, which is located on the banks of the beautiful Lolab River.
Wildlife Safari: Bangus Valley is home to several species of wildlife, including the Himalayan black bear, snow leopard, and musk deer. You can take a wildlife safari through the dense forests of the valley.
Sightseeing: Experience the thrill of  lush forests and majestic mountains, exploring ancient temples and shrines, and immersing yourself in the unique culture of Bangus valley kashmir. As you traverse the trails, you'll be rewarded with breathtaking views of the valley's snow-capped mountains, verdant meadows, and pristine lakes.
What is the Ideal Time to Visit Bangus Valley kashmir?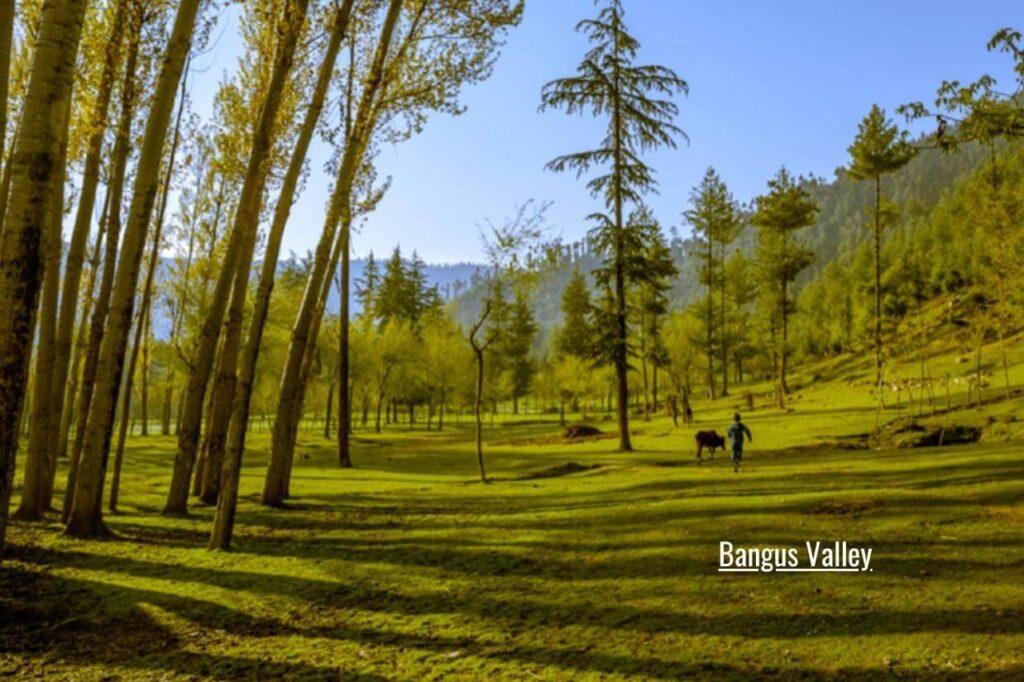 To fully appreciate the natural beauty and cultural richness of Bangus Valley Kashmir, it's important to plan your visit during the ideal time when the weather is pleasant, and the valley is in full bloom. The best time to visit is during the summer months of May to September when the weather is mild and comfortable.
During this time, the valley is at its greenest and most lush, with many wildflowers and blooming trees. Plan your visit from May to September if you want to experience Bangus Valley in all its glory. This is the peak season when the valley is most vibrant and alive.
The grassy meadows are covered in colorful flowers, the streams are crystal clear, and the snow-capped mountains in the background create a breathtaking view. However, if you're looking for a more peaceful and less crowded experience, you can visit during the months of May and September.
The weather is still pleasant, and the valley is less crowded, allowing you to fully immerse yourself in the natural beauty and tranquillity of the surroundings. No matter when you choose to visit, Bangus Valley Kashmir will leave you with a lasting impression of its unparalleled beauty and charm.
What is Bangus valley kashmir Famous for?
If you're looking for a place with breathtaking natural beauty and a rich cultural heritage, Bangus valley in Kashmir is definitely worth exploring. This valley is famous for its stunning landscapes, which include snow-capped mountains, lush green forests, and crystal-clear streams. The valley is also home to a diverse range of flora and fauna, making it a paradise for nature lovers. Bangus valley Kashmir is famous for its offbeat and pristine landscape. The place is away from the hustle and bustle and gives the virgin view of nature. Its vast meadows and lushness is the main attraction of Bangus.