Unexplored Places In Kashmir
When people think of Kashmir, they usually think of four places Srinagar, Gulmarg, Sonamarg, and Pahalgam, but Kashmir is much more than that. Srinagar serves as a base for visiting all the major tourist destinations. There are numerous other places here that will captivate you if you visit.
Kashmir, a region known for its breathtaking natural beauty, harbors a multitude of unexplored places of Kashmir that have remained hidden from the prying eyes of tourists. These untouched gems offer a unique opportunity for those seeking to immerse themselves in a journey of discovery and power. In this offbeat itinerary, we embark on a journey to discover the lesser-known, untouched places of Kashmir. So get ready to explore these unexplored places in Kashmir.
Here is our list of top ten offbeat tourist attractions in Kashmir to record into the chambers of your heart.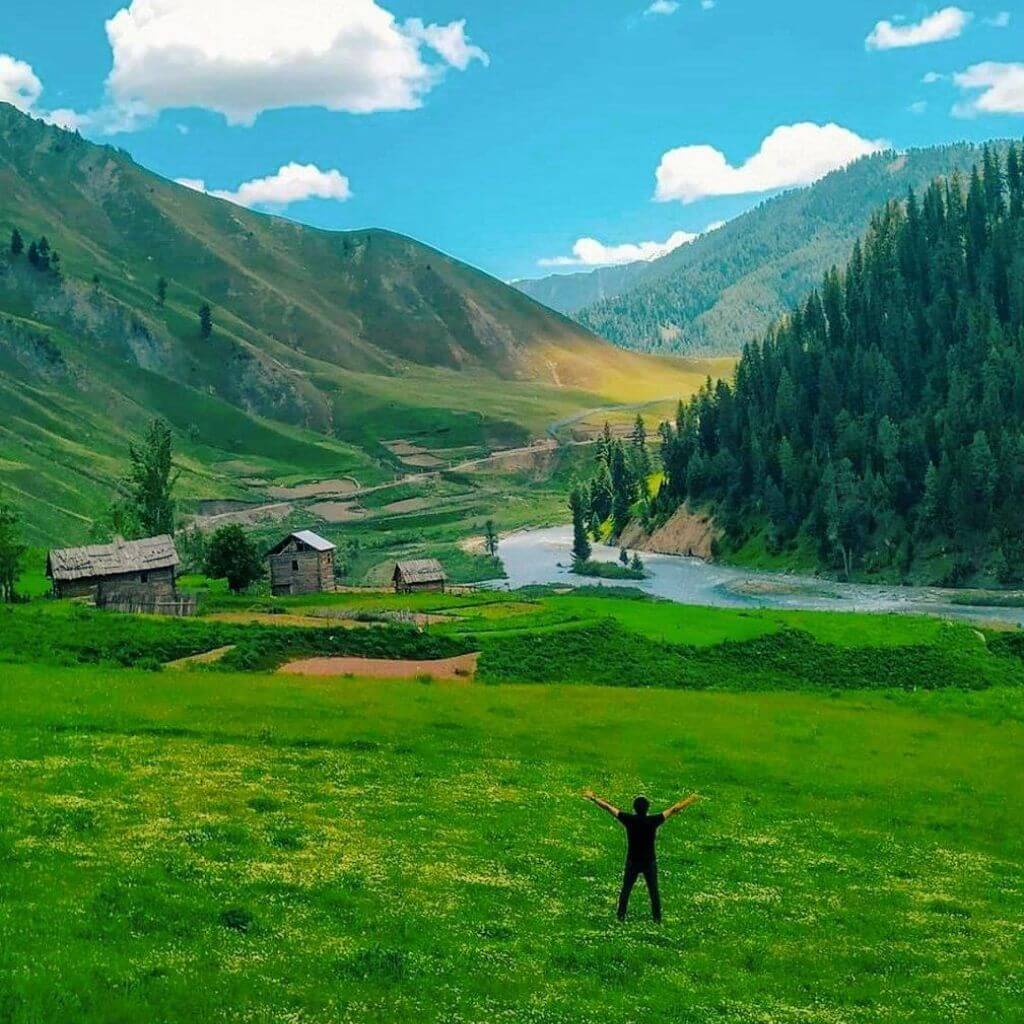 Nestled in the Bandipora district, Gurez Valley is a remote and stunningly beautiful valley. Gurez Valley, remains an unexplored gem due to its remote location and limited accessibility. Nestled amidst the mighty Himalayas, this hidden paradise offers a breathtaking landscape that captivates the imagination. The valley is surrounded by snow-capped peaks, lush green meadows, and crystal-clear rivers, creating a picturesque setting that exudes a sense of power and magnificence.
The Gurez valley distance from Srinagar is 123 kilometers and is surrounded by snow-capped mountains and presents a breathtaking picture due to the presence of the Kishanganga River running through the valley  make it one of the best unexplored places to visit in Kashmir. Gurez valley in winter is completely blocked off from the rest of the world because of heavy snowfall. Razdan Pass will be heavily snowed in by this time. The Summer (May-August) season is the best time to explore Gurez Valley. The weather is ideal for taking in the beauty of picturesque surroundings and taking stunning photographs.  The best way to get there is by car, as it's located a few hours away from Srinagar, the capital of Jammu and Kashmir.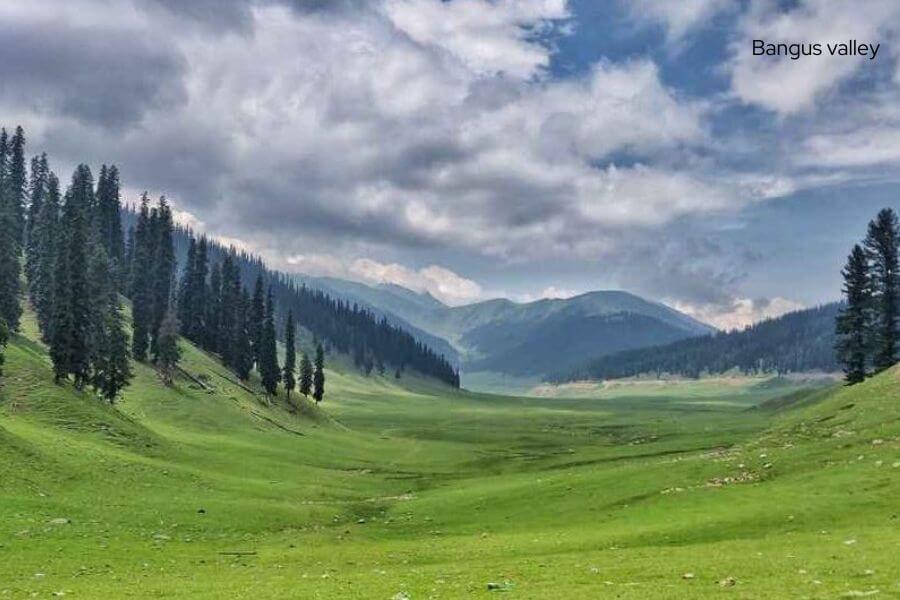 Situated in the scenic region of Kashmir, the captivating Bangus Valley mesmerizes with its untouched beauty and enthralling landscapes. This unexplored gem offers a plethora of opportunities for adventure and exploration. The valley is surrounded by majestic snow-capped mountains, dense forests, and pristine lakes, creating a picturesque backdrop that is sure to leave visitors awe-inspired. Bangus Valley is renowned for its rich biodiversity and is home to a wide range of flora and fauna.
For those seeking a thrilling experience, Bangus Valley offers numerous trekking and camping opportunities. Adventurers can embark on challenging treks that lead to breathtaking viewpoints, offering panoramic vistas of the surrounding mountains and valleys. The valley's serene lakes provide a perfect spot for camping, allowing visitors to immerse themselves in the tranquility of nature. Bangus Valley in Kashmir is a hidden paradise that awaits exploration. Its captivating beauty, diverse wildlife, and thrilling adventure opportunities make it an ideal destination for those seeking an off-the-beaten-path experience. Whether it is trekking through the picturesque landscapes or camping by the serene lakes, Bangus Valley offers an unforgettable journey that satisfies the subconscious desire for power in every adventurous soul.
Bangus has three routes: one from the Mawer side of Handwara, another from the Rajwar side of Handwara, and a third from Chowkibal, Kupwara. You can book a cab from kashmircarbooking.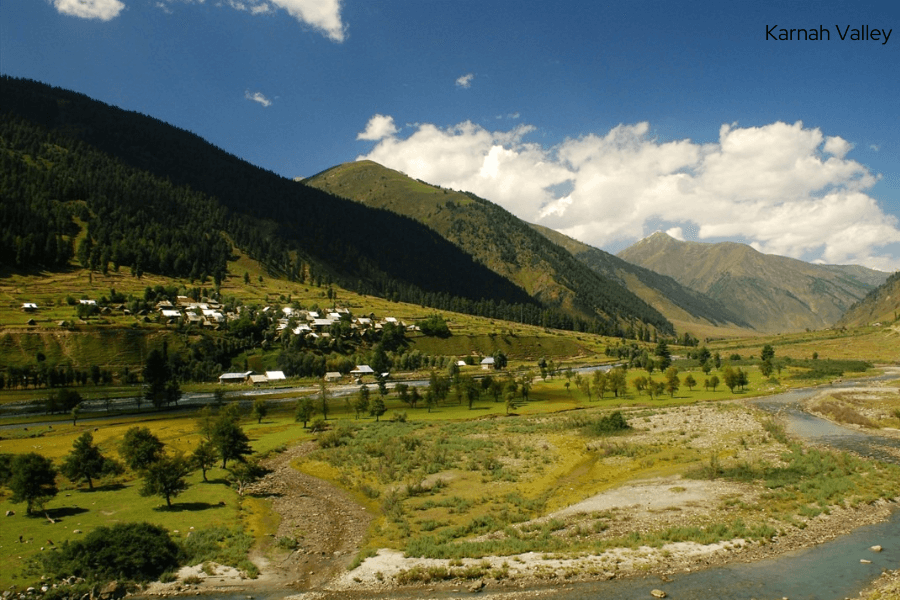 The Karnah Valley is situated at a distance of 78 kms from the town of Kupwara on the foot of the Shamsbari Mountain Range. To get to the Valley one has to cross the Sadhna Pass over the Shamsbari Range which stands at over 10000 ft. It is the extreme North Western part of Kashmir and is a beautiful and picturesque place. Karnah Valley, nestled in the scenic region of Kashmir, offers visitors a chance to experience the captivating beauty and adventure opportunities of this lesser-known destination.
Surrounded by majestic mountains and lush green landscapes, Karnah Valley is a hidden gem waiting to be discovered. Its untouched natural beauty and serene atmosphere create a sense of awe and wonder for those who venture into this unexplored territory. The valley is home to a diverse range of flora and fauna, making it a paradise for nature enthusiasts. Visitors can embark on treks through dense forests, where they may encounter rare species of birds and animals. The pristine rivers and streams that flow through the valley provide ample opportunities for fishing and other water-based activities. Adventure seekers can indulge in thrilling activities such as rock climbing, rappelling, and camping in the wilderness. The breathtaking views from the mountain peaks offer a sense of empowerment and a chance to connect with the raw power of nature.. It is about 75 Kilometers away from Srinagar. You can hire a cab from KASHMIRCARBOOKING from Srinagar.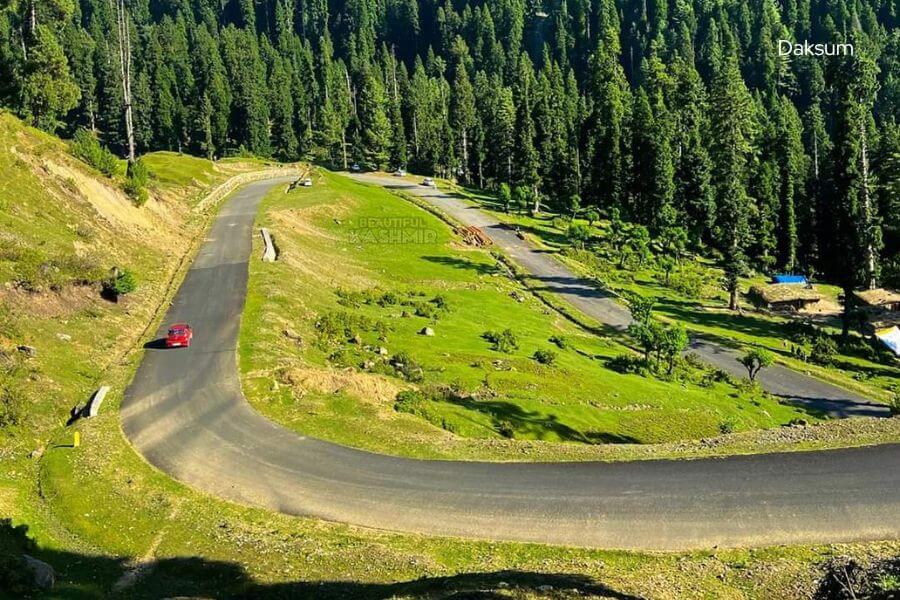 Daksum is a hidden gem located in the Anantnag district of Jammu and Kashmir. It is a serene and untouched destination blessed with lush green meadows, dense forests, and gushing streams. The area is perfect for nature walks, photography, and exploring the surrounding trails.
The mesmerizing beauty of Daksum lies in its pristine meadows, crystal clear streams, and dense coniferous forests. As one enters Daksum, they are greeted by the enchanting charm of the Kokernag River, which flows through the valley, adding to its serenity. Daksum offers various activities for the adventurous souls, such as trekking, camping, and picnicking. The famous Sinthan Top, located nearby, is a popular spot for trekking enthusiasts, offering breathtaking views of the snow-clad peaks and valleys. The peaceful ambiance of Daksum is perfect for meditation and introspection, allowing visitors to rejuvenate their mind and soul. Daksum is a hidden paradise in Kashmir, offering a serene and peaceful retreat for travelers. Its untouched beauty and captivating landscapes make it an ideal destination for those seeking solace and a break from the chaos of everyday life. It is about 99 Kilometers away from Srinagar. You can hire a cab from Kashmircarbooking.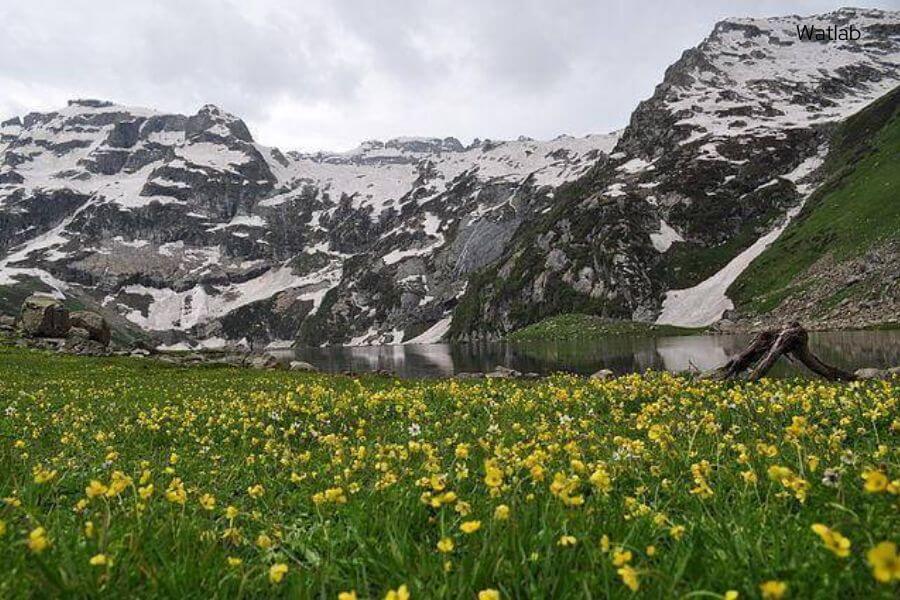 Watlab is a small village located in the Sopore area of Jammu and Kashmir. It is known for its scenic beauty and the famous Watlab Mosque, which is surrounded by picturesque landscapes. The village is nestled amidst dense forests and offers a serene and calm ambiance.
Nestled amidst the majestic mountains and lush greenery, Watlab offers a perfect retreat for those seeking solace and tranquility. The untouched natural beauty of this place leaves a lasting imprint on the minds of its visitors, making it an ideal destination for nature lovers and adventure enthusiasts. The Watlab Lake are one of the main attractions of this place. The lake's pristine beauty is enhanced by the surrounding dense forests, creating a picturesque view that is truly mesmerizing. Visitors can indulge in boating or simply sit by the lakeside, immersing themselves in the peaceful ambiance.
You can hire a cab from Srinagar to reach Watlab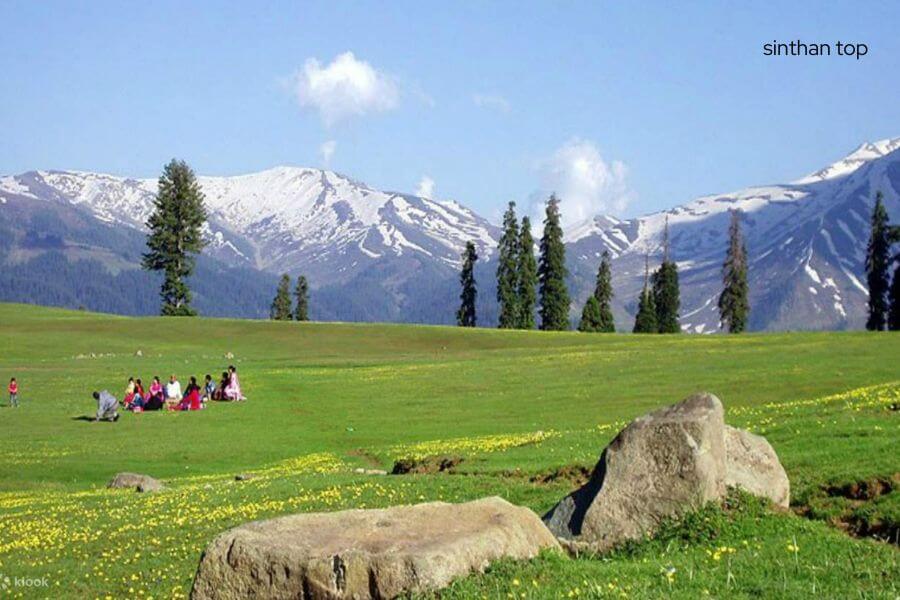 Sinthan Top is a picturesque mountain pass located in the Kishtwar district. It offers stunning panoramic views of the Pir Panjal range and the surrounding valleys. The area is known for its pristine beauty, alpine meadows, and adventurous trekking trails. Situated at an elevation of 12,500 feet above sea level, Sinthan Top is a place that exudes an aura of grandeur and mystique. Its untouched landscapes and breathtaking views make it a perfect haven for those seeking a sense of power and dominance over nature.
Sinthan Top offers breathtaking panoramic views of the surrounding snow-capped mountains, deep valleys, and lush green meadows. The picturesque landscapes make it a popular destination for nature lovers, photographers, and adventure enthusiasts. The weather at Sinthan Top is cool and pleasant during the summer months, making it an ideal escape from the heat of the plains. However, during the winter season, heavy snowfall can occur, and the pass may be closed due to snow accumulation. It is a guaranteed hit among those who get to visit this mesmerizing spot because of its offbeat location. It is about 130 Kilometers away from Srinagar. You can hire a cab from Kashmircarbooking.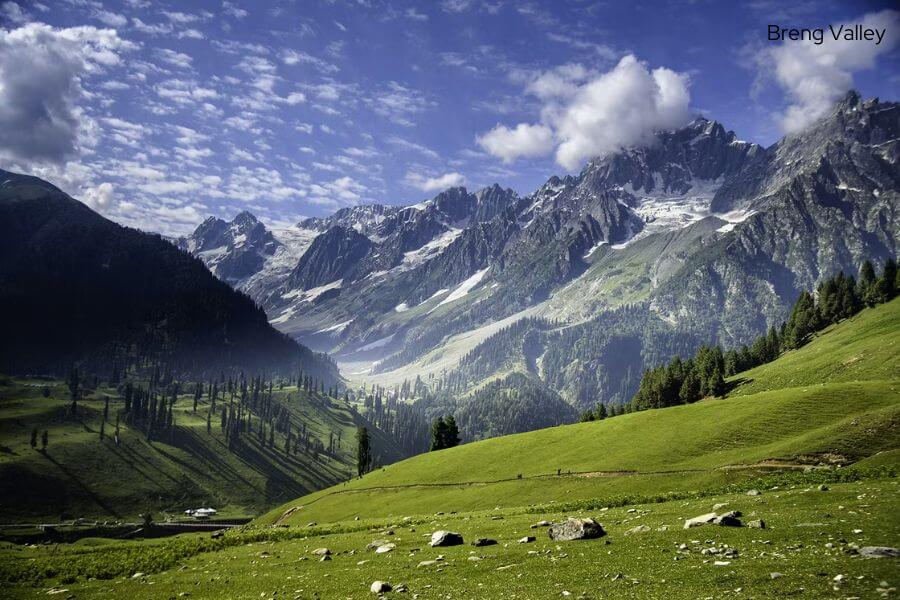 Breng Valley, also known as the "THE GOLDEN CROWN OF KASHMIR," is a lesser-known valley situated in the Anantnag district. It is characterized by beautiful meadows, dense forests, and the glistening Brengi River. The valley offers a peaceful and serene ambiance, away from the crowds.
 It represents the pinnacle of tourism, with snow-capped mountain peaks, fresh water springs and streams, vast meadows, never-ending pine forests, herbal jungles with medicinal flora, Rhododendrons, high altitude fresh water lakes, Mughal gardens, historic and religious sites, archaeological sites, and trekking routes to Ladakh, Kistwar, and Marwah-Wadwan.
The valley gets its name from the Brengi River, a notable Jhelum River tributary. Breng Valley is 82km away from Srinagar.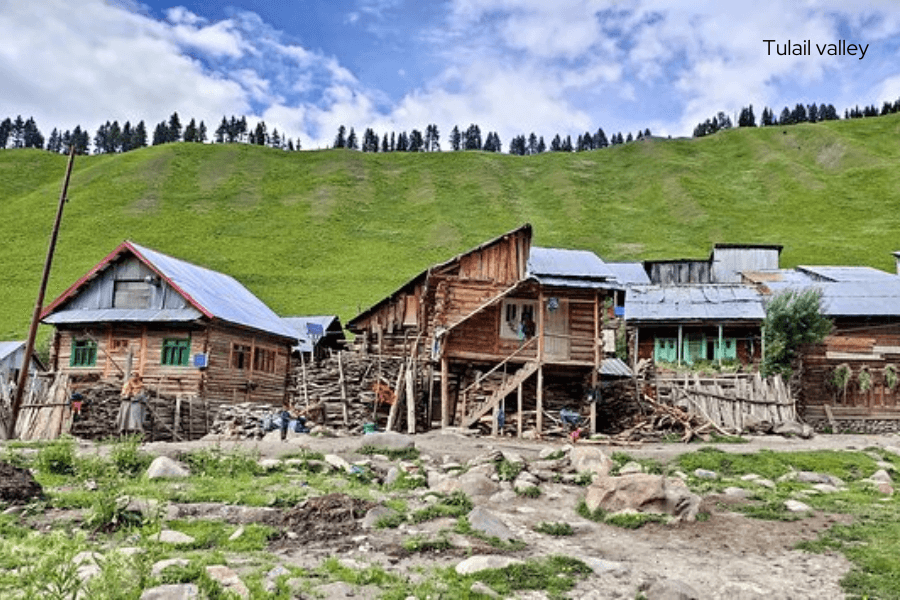 Tulail Valley is a hidden treasure situated in the Gurez tehsil of the Bandipora district. It is known for its captivating beauty, mesmerizing landscapes, and the captivating Nallah Krishan Ganga. The valley offers opportunities for trekking, camping, and experiencing the local culture.
Tulail Valley is relatively untouched by mainstream tourism, offering a serene and tranquil ambiance. The valley's isolation and pristine surroundings make it a perfect destination for those seeking peace and solace amidst nature. Tulail Valley is renowned for its breathtaking natural beauty. It features picturesque meadows, dense forests, sparkling streams, and panoramic views of the Himalayan ranges. The valley remains covered in snow during the winter months, adding to its charm.En route you will cross the villages of Barnai, Chakwali, Kashpat, Zargai and finally you can get to see the Purani Tulail Village. The scenic landscapes are a visual treat to the eyes and senses. Houses of Tulail region built with interlocking logs without any nails. The virgin valley keeps flourishing in summer and is ideal for photography sessions. This area is also very famous for its fresh water trout. It is about 187 Kilometers away from Srinagar. You can hire a cab from Kashmircarbooking.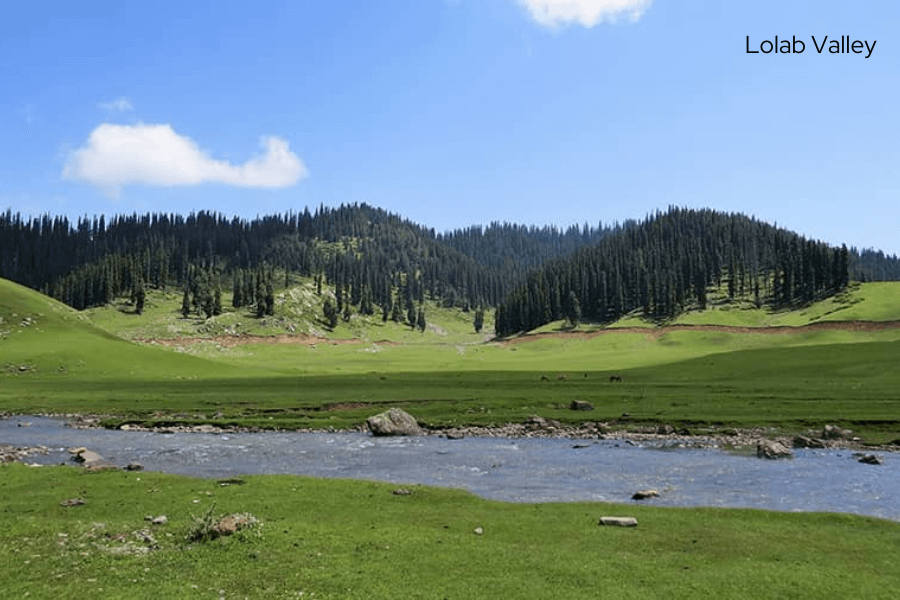 Lolab Valley, situated in the Kupwara district, is a picturesque valley characterized by lush green meadows, dense forests, and snow-covered mountains. It is relatively untouched by tourism, offering a peaceful and tranquil environment. The valley is perfect for leisurely walks, picnics, and enjoying the breathtaking views. Lolab Valley is known for its stunning natural beauty. The valley offers panoramic views of the majestic Himalayan peaks, rolling meadows, and glistening streams. It is adorned with colorful flowers during the summer months, enhancing its charm.
Lolab Valley is a paradise for nature lovers and adventure enthusiasts. The valley offers opportunities for hiking, trekking, and camping amidst its beautiful meadows and forests. You can also enjoy picnics, leisurely walks, and birdwatching in the area. Tourists from Srinagar can easily reach Lolab by a local bus or hire a taxi.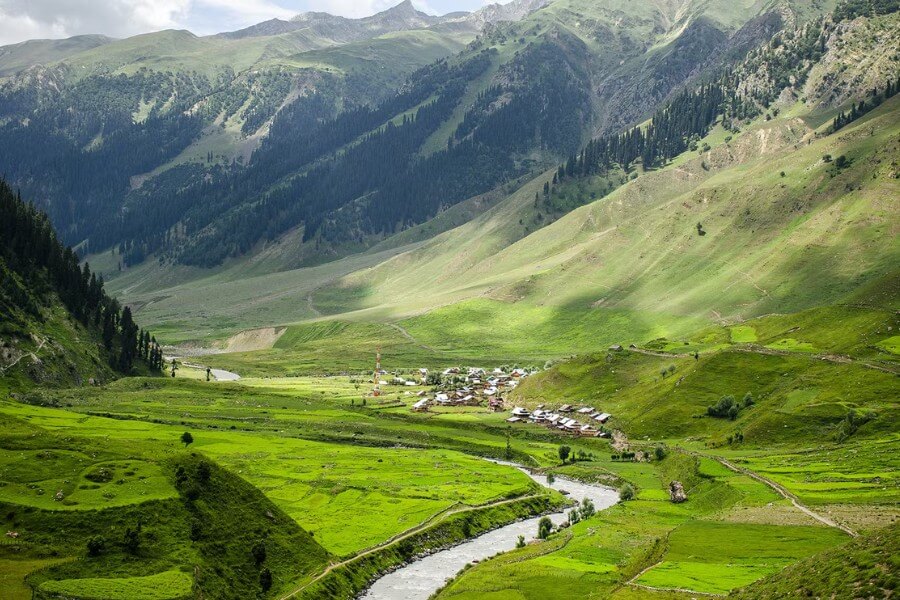 Warwan Valley is a hidden gem located in the Kishtwar district of Jammu and Kashmir. It is famous for its pristine beauty, snow-capped peaks, meandering rivers, and rich biodiversity. The valley is adorned with alpine meadows, colorful flowers, and dense forests, making it an ideal destination for nature lovers and trekkers.
With its untouched landscapes and pristine wilderness, the Warwan Valley offers a captivating experience that is sure to enthrall even the most discerning adventurer. The Warwan Valley is a haven for outdoor enthusiasts, offering a plethora of activities to indulge in. From trekking through its rugged trails to camping by the glistening streams, every step taken in this valley is a revelation of nature's grandeur. The Warwan Valley beckons those who dare to step off the beaten path and seek the thrill of the unknown, promising an unforgettable journey that will leave a lasting impression of power and achievement. .This attractive tourist spot is unaffected by the adverse impacts of contemporary life and has pure and fresh air. The beautiful Warwan River, flowing from the massive Kanital Glacier, brings travelers a delightful and peaceful experience.
For reaching there one can Book a cab from KASHMIR CAR BOOKING