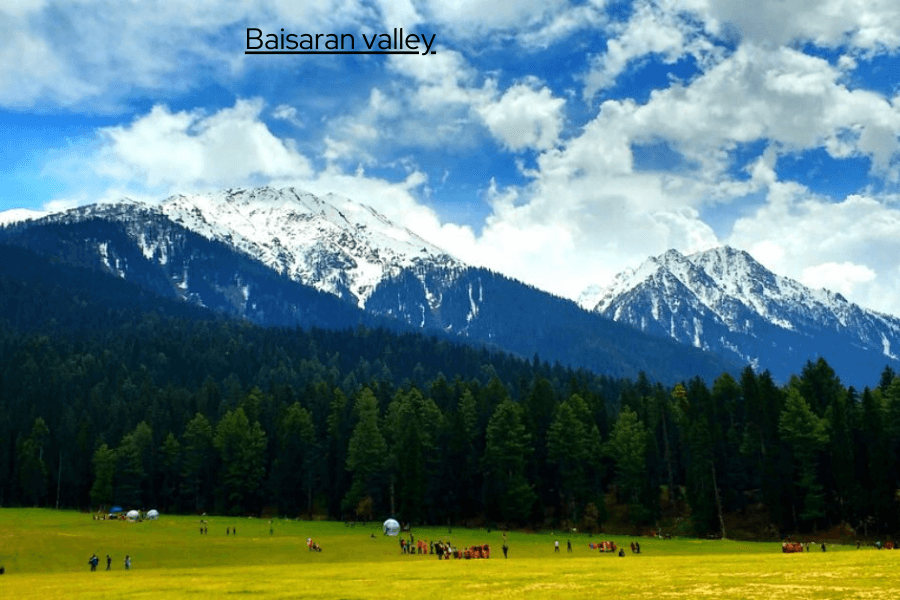 The Baisaran Valley is a beautiful location in India that offers stunning views. Located in the Pir Panjal Range of Jammu and Kashmir state, it's surrounded by lush green meadows and snow-capped mountains. It's known for its picturesque beauty and peaceful atmosphere, making it an ideal spot for nature lovers or anyone seeking a relaxing getaway.
The Baisaran valley in Pahalgam is often referred to as mini-Switzerland Pahalgam because of its mesmerizing and picturesque beauty. Visitors to the valley can enjoy activities such as horse riding, camping, trekking, and skiing. With its majestic surroundings and array of activities to choose from, Baisaran Valley is sure to offer an unforgettable experience.
The Baisaran Valley is located near the village of Pahalgam in the Kashmir region of northern India. The valley is known for its lush meadows, which are surrounded by tall pine trees and snow-covered peaks. It's a popular destination for hikers, as it has several trails that lead to breathtaking views of the Himalayan Mountains. Valley View Point is the first place to stop and rest when visiting Baisaran Valley. The view from here is breathtaking. You can see the Lidder River and the surrounding mountains. You will see a beautiful waterfall on the way to the village.
It's the perfect base camp for trekkers, who are planning to continue on to Tulian Lake for two days further. From the Baisaran, you'll be able to admire some of Kashmir's most picturesque locations such as Kaniarg, Deon Valley, Dabyan, Kashmir Valley, Pahalgam old village. The valley is also known for its beautiful lakes, including Sheshnag Lake and Tulian Lake. Both of these lakes are surrounded by stunning mountain scenery and offer a tranquil respite from the hustle and bustle of everyday life. Visitors can enjoy camping trips to explore more of this idyllic setting, or take part in adventure activities such as kayaking and paragliding. Overall, Baisaran Valley provides an unforgettable experience for all who visit.
From its lush meadows blanketed with wildflowers, to its snow-capped peaks that reach to the heavens above, this magical valley is one of Mother Nature's finest creations. It has something for everyone – whether you're looking for adventure or just want to relax and take in the beauty of nature.
Things to do in Baisaran Valley
Tucked away in the majestic Baisaran Valley, lies a paradise of outdoor activities to enjoy. From hiking and horseback riding to camping, this stunning location has something for everyone to enjoy. Visitors can trek through the lush forests and meadows, or take a leisurely stroll along the crystal-clear rivers that form its boundaries. Adventure seekers can explore the rugged terrain on horseback or ski down the snow-capped peaks.  There is no shortage of ways to enjoy this beautiful natural landscape. Whether you're looking for an adrenaline-filled adventure or simply want to relax and take in the views, Baisaran Valley offers it all.
How To Get To The Baisaran Valley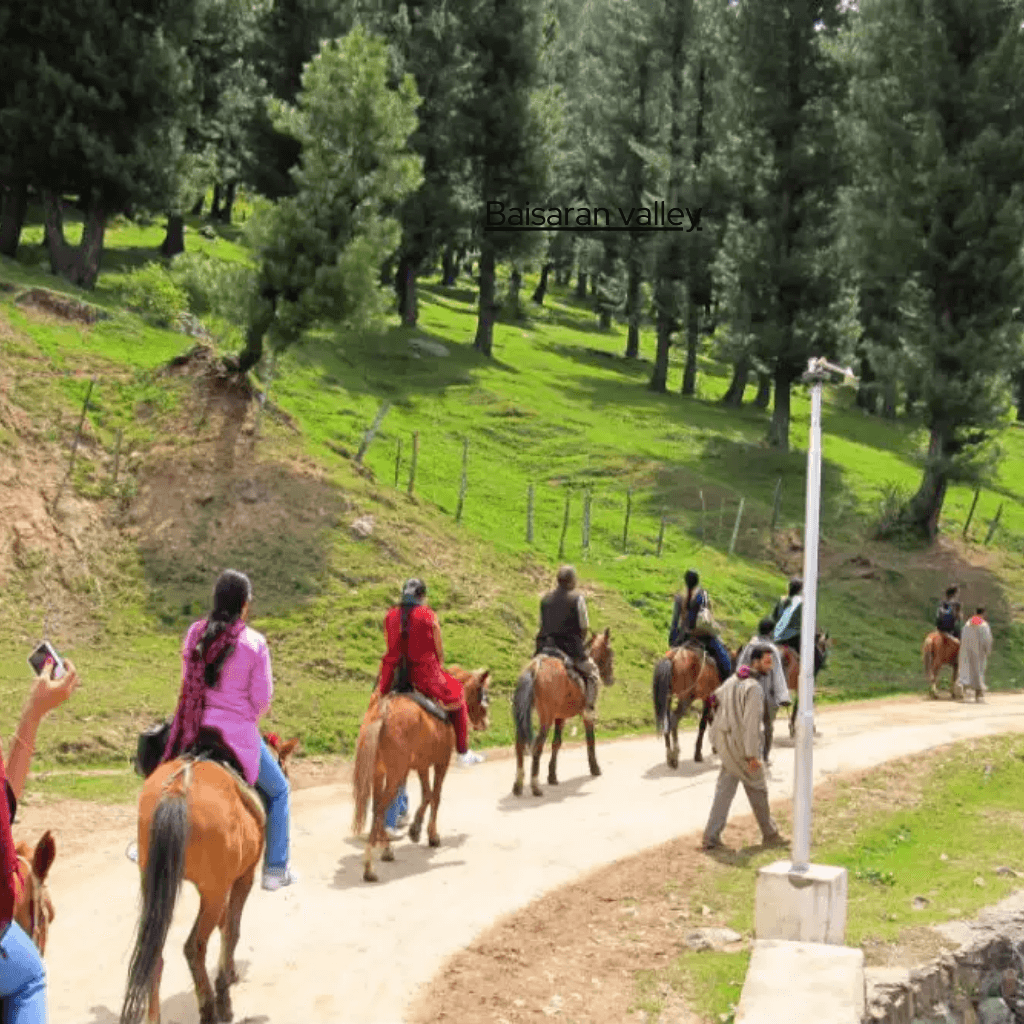 The majestic beauty of Baisaran Valley Pahalgam is absolutely breathtaking. From the rolling green hills, to the meandering streams, to the captivating views of mountains in the distance, it is no wonder why this valley has been a favorite destination for travelers for centuries.
With its idyllic landscape and calming atmosphere, it's no surprise that many are drawn to this place.
Getting to Baisaran Valley Pahalgam isn't difficult. The picturesque Baisaran Valley is 96 km from Srinagar. You can hire a cab here, just a 5-kilometer walk from Pahalgam. You can also ride a pony or horse to Baisaran from Pahalgam main market.
The trek to the Baisaran valley is a 7.5 km trek, a total of 15 km up and down trek. It will take you around 1 hour through the pony ride going up and 25-30 minutes while coming down. If you're going on foot, you might take 1.5 hours in going up and around 45 minutes in coming down.

Once you arrive at your destination, you'll be greeted with stunning views and peaceful surroundings that will make your trip worth it.
Exploring Baisaran Valley Pahalgam is an unforgettable experience that will leave you feeling refreshed and energized. You'll be able to take in all of its natural beauty while also enjoying a variety of activities like trekking, camping, fishing, and bird watching.
Whether you want to spend a few days here or just take a day trip, there's something here for everyone!
Best Time To Visit Baisaran Valley Pahalgam
The ideal time to visit Baisaran Valley Pahalgam is between April and July. During these months, temperatures are mild and comfortable, allowing one to enjoy the various outdoor activities on offer. Spring marks the beginning of blooming season when bright hues of wildflowers cover the entire valley with vibrant splendor.
Autumn brings in a pleasant chill that is perfect for indulging in sightseeing activities without feeling too hot or cold. Adventure enthusiasts can take part in thrilling activities such as trekking, camping, horse riding, river rafting during their stay at Baisaran Valley Pahalgam. All these activities require strong physical fitness but promise an unforgettable experience for those who dare to challenge themselves.
With so much on offer, it is easy to understand why this place has become an increasingly popular tourist destination over the years.
Baisaran Hill is a Rolling meadow covered by thick pine forests, and lush greenery describes Baisaran Hills the best, making it a place worth visiting.
The picturesque Baisaran Valley is 103 km from Srinagar. You can hire a cab, just a 5-kilometer walk from Pahalgam. You can also ride a pony or horse to Baisaran from Pahalgam.
Tulian Lake is an alpine lake near Pahalgam. It lies at an altitude of 3,684 meters (12,087 ft) above sea level, 16 kilometers (9.9 mi) southwest of Pahalgam, and 11 kilometers (6.8 mi) from Baisaran.