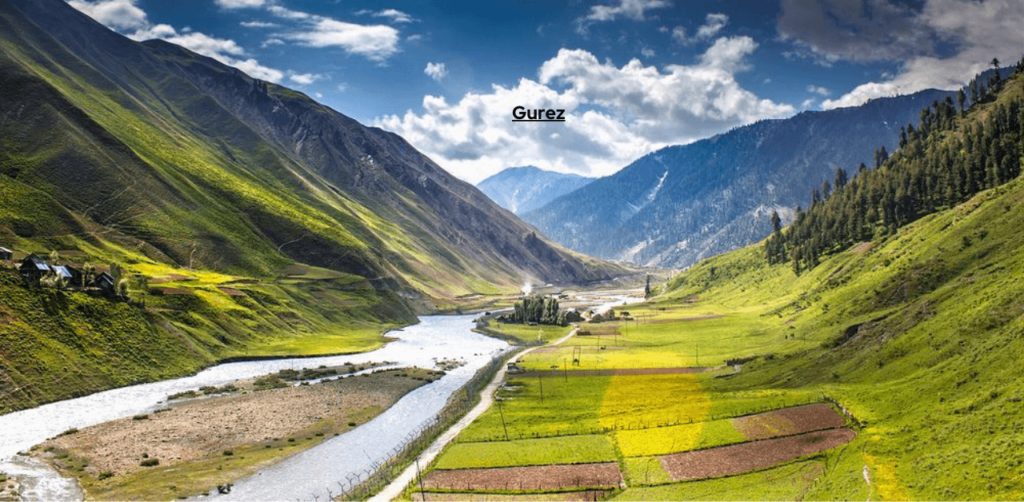 Gurez Valley, located in the northernmost part of India in the state of Jammu and Kashmir, is a picturesque paradise that's been hidden away from the rest of the world. Surrounded by some of the world's highest mountains, it's a place where you can get away from it all and enjoy nature at its finest. From snow-capped peaks to crystal clear rivers, this valley has something for everyone. Its natural beauty and unique culture make Gurez Valley an incredible destination for anyone looking to explore kashmir's lesser-known regions.
When people think of Kashmir, they usually think of four places Srinagar, Gulmarg, Sonamarg, and Pahalgam, but Kashmir is much more than that. Srinagar serves as a base for visiting all the major tourist destinations. There are numerous other places here that will captivate you if you visit, and Gurez is one such destination you should visit if you are in Kashmir.
It's hard to find words to properly describe the beauty of Gurez Valley. From the snow-capped mountains that tower above it, to the lush meadows and fields that carpet its landscape, Gurez Valley is a sight to behold. Its winding rivers and streams are teeming with life, while its tall trees provide much needed shade from the sun's rays. The air in Gurez Valley is also clean and fresh due to its location at very high altitude, making it a great place for outdoor activities like hiking, mountain biking or simply taking in nature's grandeur.
Exploring Gurez Valley will take you on a journey of discovery, from its stunning natural beauty to the unique culture of its inhabitants. Located in the foothills of the Himalayas, this hidden gem is home to some of the most breathtaking views in India. The valley itself is located in Kashmir and stretches for approximately 100 km along the banks of the Kishanganga River. It's an area that has something for everyone: trekking, rafting, fishing, and bird-watching are just some of the activities that can be enjoyed here.
It's also known for its vibrant culture, with many different ethnic groups living side by side in harmony. Jammu and Kashmir tourism department has also made a lot of efforts and conducted many festival in Gurez this year named as
Jashn–e-Gurez and Grand Gurez in year 2022. The people here are warm and welcoming; visitors can expect to receive a traditional greeting when they arrive. There are also plenty of opportunities to explore local villages and take part in various festivals throughout the year. Gurez Valley truly offers a one-of-a-kind experience that should not be missed!
Indian nationals can now come to Gurez Valley with valid government-issued identification (Aadhar card). Foreign nationals are still banned to visit the Gurez Valley Kashmir till date 2023.

The Gurez Valley is a place of unparalleled beauty. Nestled in the Himalayas, it's blessed with majestic mountain peaks and lush green meadows. The scenery here is truly breathtaking – you can take in panoramic views of snow-capped mountains and emerald valleys that stretch out for miles.
It's not just the physical landscape that makes Gurez Valley beautiful, though; the people here are incredibly welcoming and friendly too! You'll get to experience traditional Kashmiri hospitality and immerse yourself in the unique culture of this region. Whether you're looking for an adventure or simply a peaceful escape from everyday life, Gurez Valley has something to offer everyone.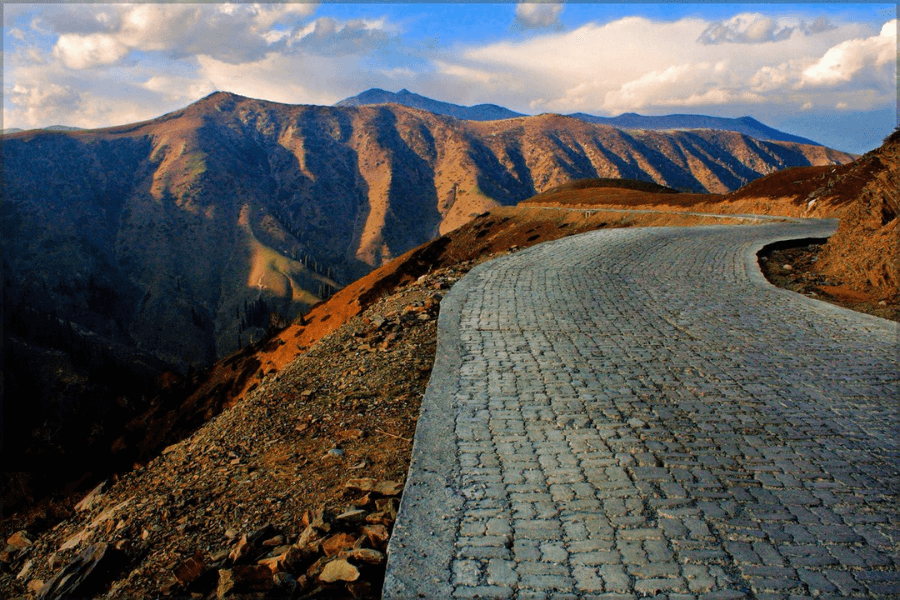 Reaching Gurez Valley is an adventure that many wish to experience. It is located in the northwestern part of Kashmir Valley, and it is known for its stunning views of the Himalayas. The best way to get there is by car, as it's located a few hours away from Srinagar, the capital of Jammu and Kashmir.
One can take a shared cab from Srinagar to Bandipora and from Bandipora Bus stand to a shared cab to Gurez (Dawar), but it is time-consuming, and there will be no Sightseeing on the way.
If you want to explore Gurez, then you can rent a car from Srinagar, and you will explore all the places on the way and in Gurez. Make sure your driver is knowledgeable enough about the place. One of the best choices for renting a cab for Gurez is KASHMIR CAR BOOKING. They will also guide you through the trip and make sure that your journey will be smooth and Hassle-free. Contact: 8082022260.
Once you reach Gurez Valley, you will be rewarded with breathtaking views of snow-capped mountains and lush green meadows. You can also enjoy a variety of outdoor activities like trekking, camping and wildlife spotting during your stay at the valley.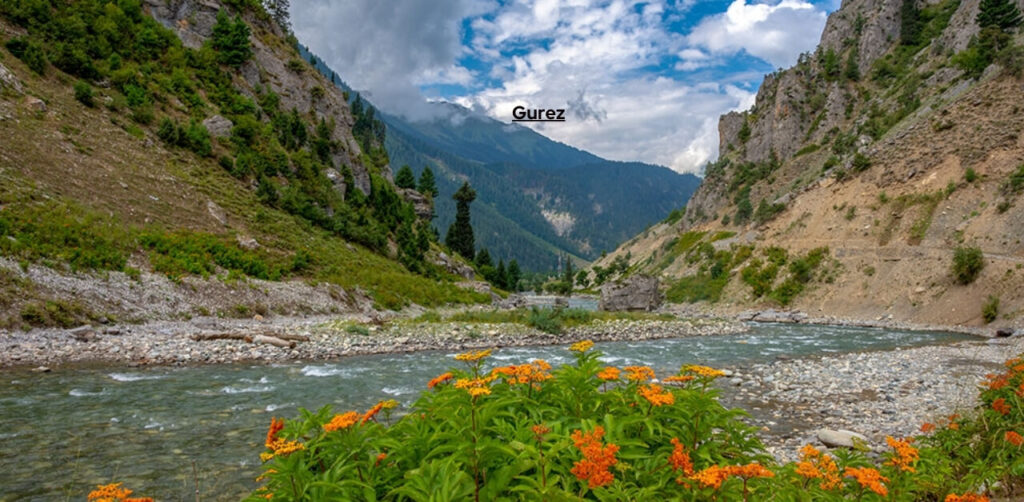 Gurez receives heavy snowfall in winter. Even the passes leading upto it receive a lot of snowfall, so it's shut for months a year. The valley remains open to tourists from May to October. The best time to visit Gurez is from May to October.
If you want to enjoy winter in Gurez, plan your trip from December through March. You'll experience snowfall. You should remember that Gurez remains closed during winter after it starts to snow at Razdan Pass. During this time, there is absolutely no way to enter the valley by road. You will have to board a helicopter from either Srinagar or Bandipora. Thus, the best time to visit Gurez Valley is May and October.
During this time, the valley experiences a mild climate with plenty of sunshine and great visibility. This period also sees the highest amount of precipitation in the region, making it ideal for outdoor activities like trekking or camping. The temperature remains pleasant throughout this season.
Places To Visit In Gurez valley
You'll enjoy breathtaking views of Habba Khatoon from Dawar and the beauty of this place. It is a mountain peak overlooking the town of Dawar and has quite a bit of history related to it. It is a high top that overlooks the town of Dawar and has a rich history. It turns golden after dusk and provides an excellent picture opportunity. Visit the Habba Khatoon Spring when you visit this area, and enjoy the freshwater. Here, the medicinal properties of this water attract many people to come for their health problems.
A perfect place for adrenaline junkies is a high mountain pass called Razdan Pass, which has an elevation of 11,672 feet. Considered one of the scariest roads. Winding and meandering roads through deep valleys with snow-capped peaks make the journey through this pass unforgettable. The views from Razdan Top leave the visitors amazed by its breathtaking beauty.
The heart and soul of Gurez Valley is the Kishanganga River, also referred to as River Neelum in Pakistan. There are imposing mountain ranges on both sides of this river. The turquoise blue water shimmers as the rays of the sun hit it.
Tulail Valley is a part of the Gurez area- but it is well-known among tourists. Some people even call it the Switzerland of India due to the scenic views. The river also runs through here, which makes it even more popular with tourists who wish to fish. Many people come here to enjoy fishing or laze in the valley and admire nature.
Things To Do In Gurez Valley
There are many festivals and events in and around the valley throughout the year.There are a lot of things to do if you visit this place during a certain time of the year.
Gurez has natural beauty, and the Tourism department wants more tourists to flong to this offbeat place and needs to do more effort with the help of festivals in Gurez. During these Festivals, many activities have been introduced in Gurez: Hiking, Trekking to Dissan, camping, and fishing and rafting, on the Kishanganga River. The best part in Gurez is you will find peace there.
If you are looking for something to do, you can do camping at the banks of the Kishanganga River and watch the sunrise. If you are a adventure lover, you can go on a river rafting or trout fishing trip. Trekking on the many trails is possible if you are a trekking enthusiast.