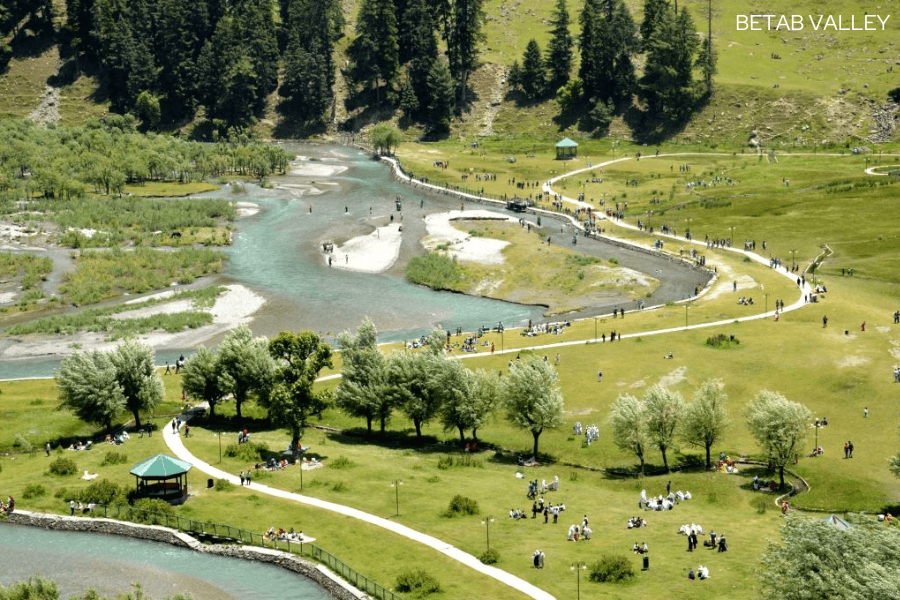 Ah, I see! Betaab Valley is a beautiful tourist destination located in Pahalgam, a town in the state of Jammu and Kashmir, India. The valley got its name from the Bollywood movie "Betaab," which was filmed extensively in this picturesque location. . It is located in the Anantnag district of Jammu and Kashmir and is about 7 kilometers from the town of  Pahalgam. It was originally known as  Hagan Valley and got the name of  Betab valley Pahalgam from the popular Bollywood movie Betaab, which was filmed here in early 80's. The valley is surrounded by snow-capped mountains and is full of green meadows, streams, and forests. It is a popular tourist destination and is known for its scenic and picturesque beauty. The valley is also home to a number of wildlife species such as the snow leopard and brown bear. Betaab valley Kashmir in winter remains under thick layer of snow. 
Betaab Valley is situated at the confluence of the Sheshnag River and the Lidder River, surrounded by lush green meadows, towering mountains, and dense pine forests. It offers stunning views of snow-capped peaks, cascading waterfalls, and vibrant flora, making it a popular spot for nature lovers and adventure enthusiasts. The valley falls on the way to the famed Amarnath temple yatra and is one of the three stunning valleys of Pahalgam. The other two are Chandanwadi and Aru. All three of these valleys offer breathtaking views and are popular among tourists. Some nearby attractions you can visit from Betaab Valley are Baisaran and Tulian-lake. The Betaab valley in Pahalgam is not only well-known for its stunning landscape, but also as a renowned trekking base and camping site for travelers who want to explore the nearby regions. 
Betaab Valley is also famous for its abundant flora and fauna. The valley is adorned with a variety of colorful flowers, including irises, daisies, and buttercups, which add to its charm. It serves as a gateway to the Amarnath Yatra, a holy pilgrimage to the Amarnath Cave. There are numerous other places here that will captivate you if you visit.
Pahalgam, the town where Betaab Valley is located, is a popular tourist destination in itself. It is surrounded by thick pine forests and serves as a base for various trekking expeditions, including the famous trek to the breathtakingly beautiful Kolahoi Glacier.
Things to do in Betaab Valley
When visiting Betaab Valley in Pahalgam, there are several activities and experiences you can enjoy. Here are some popular things to do in Betaab Valley:
Immerse yourself in the stunning natural surroundings of Betaab Valley. Take in the panoramic views of snow-capped mountains, lush green meadows, and gushing streams.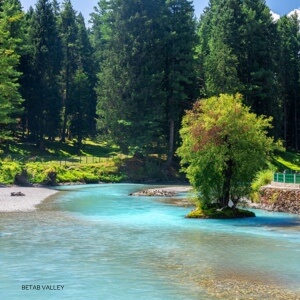 Experience the joy of horse riding through the meadows and along the river in Betaab Valley. It's a popular activity that allows you to explore the area while enjoying the scenic views.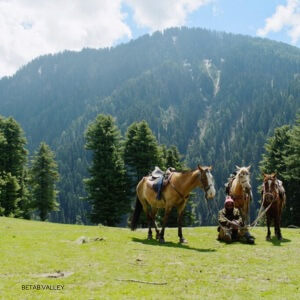 Betaab Valley offers opportunities for trekking and hiking enthusiasts. You can explore the nearby trails and enjoy the thrill of trekking amidst the picturesque landscapes.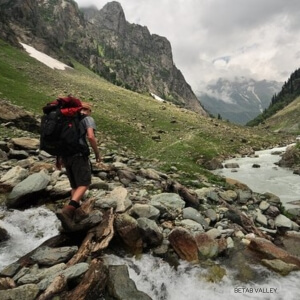 Betaab Valley presents countless photo opportunities. Capture the breathtaking landscapes, vibrant flowers, and the play of light and shadow against the mountains. It's a paradise for photography enthusiasts.
Best time to visit Betaab Valley Pahalgam Kashmir
June to September is the best time to visit Kashmir Betaab Valley Pahalgam. Betaab Valley temperature during these months ranges from 15-20 degree . During this time the weather is pleasant and you can explore the best of Betaab Valley. It is a great time for outdoor activities like trekking, horse riding, and picnic spot. 
How to Reach Betaab Valley Pahalgam Kashmir
The distance from Srinagar to Betaab Valley is around 117 km, You can hire a taxi from  Pahalgam village Taxi and from Pahalgam, Betaab valley is just 8 km away and takes around 30 minutes to reach there with Union Taxi. Check updated taxi rates in Kashmir.
When visiting Betaab Valley in Pahalgam, Kashmir, there are several other attractions and places nearby that you can explore. Here are some popular places to visit in the region:
Located near Betaab Valley, Aru Valley is a picturesque destination known for its meadows, gushing streams, and panoramic views. It's an excellent spot for nature walks, horse riding, and enjoying the serene beauty of the valley.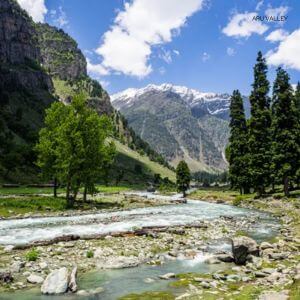 Chandanwari is the starting point of the Amarnath Yatra, a famous pilgrimage to the holy Amarnath Cave. The place is surrounded by snow-capped mountains and offers stunning views. You can also enjoy activities like sledging and pony rides here.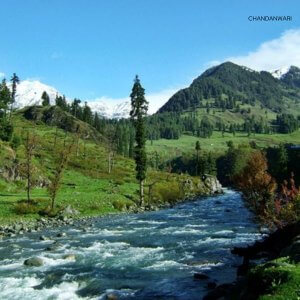 Embark on a trekking expedition to the Kolahoi Glacier, which is located near Pahalgam. The glacier is a breathtaking sight, nestled amidst the majestic Himalayan peaks. It's a challenging trek but offers rewarding views.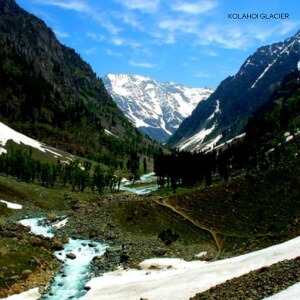 If you're up for an adventurous trek, consider visiting Tarsar Lake. It's a high-altitude lake surrounded by mountains and is known for its pristine beauty. The trek to Tarsar Lake offers breathtaking views of the Himalayan landscape.