Best Places To Visit In Pahalgam Valley
Located 95 km from Srinagar, Pahalgam, also known as the "Village of Shepherds", is located in District Anantnag. It is situated on the banks of river lidder and surrounded by dense forests of pine and fir trees. One of the highlights of exploring Kashmir is definitely Pahalgam, a serene and enchanting destination. Pahalgam is known for its breathtaking trekking trails that offer a perfect escape for adventure enthusiasts.
Pahalgam Valley is renowned for its breathtaking natural beauty, lush green meadows, snow-capped mountains, and gushing rivers. It is situated at an elevation of about 2,740 meters (9,000 feet) above sea level and is surrounded by the stunning Himalayan mountain range. The Lidder River flows through the valley, adding to its scenic charm. Pahalgam is also the base camp for the annual Amarnath Yatra pilgrimage. Devotees from all over India and abroad visit Pahalgam to commence their journey towards the holy Amarnath Cave, where an ice stalagmite is worshipped as a symbol of Lord Shiva. Apart from religious and natural attractions, Pahalgam offers recreational activities such as horse riding, golfing, trout fishing, and white-water rafting in the Lidder River.
Pahalgam Valley offers numerous activities and attractions for visitors. It is known for its picturesque hiking trails, including the famous Chandanwari and Betaab Valley. Adventure seekers can engage in activities like trekking, horse riding, white-water rafting, and angling in the Lidder River. The valley is also home to several beautiful waterfalls, such as Aru Valley and Kolahoi Glacier.
Certainly! Pahalgam offers a range of activities for adventure enthusiasts and nature lovers. Here are some specific things to do in Pahalgam that align with your interests:
Experience the serenity of Pahalgam by camping amidst nature. Set up your tents in picturesque locations such as Aru Valley, Betaab Valley, or along the banks of the Lidder River. Enjoy the tranquility, starry nights, and the fresh mountain air.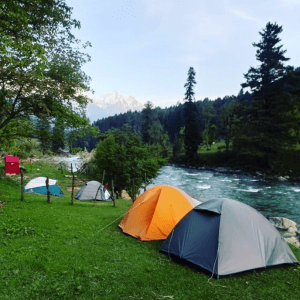 Pahalgam is a paradise for trekkers with its stunning trails and panoramic vistas. Embark on treks like the Kolahoi Glacier trek, Tarsar Marsar trek, or the trek to Sheshnag Lake. These treks offer a chance to explore the pristine beauty of the Himalayas.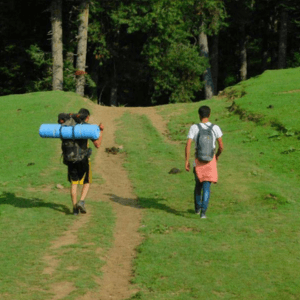 Get your adrenaline pumping with river rafting in the gushing waters of the Lidder River. Enjoy the thrilling rapids as you navigate through the scenic valleys and rocky terrains. River rafting is usually available during the summer season when water levels are suitable.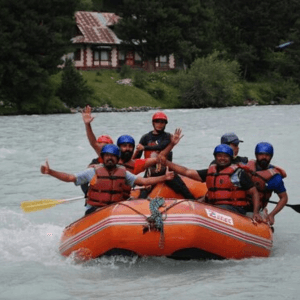 Explore the picturesque landscapes of Pahalgam on a pony ride. Rent a pony and ride through beautiful meadows, pine forests, and quaint villages. It's a unique way to experience the beauty of the region while enjoying the local culture.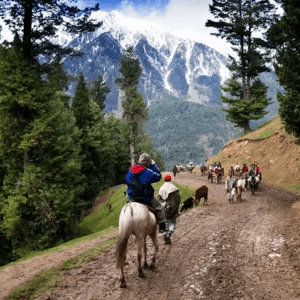 Pahalgam offers incredible opportunities for photography. Capture the stunning landscapes, snow-covered peaks, flowing rivers, and the vibrant local culture. Whether you're an amateur or professional photographer, Pahalgam's natural beauty will provide ample subjects for your lens.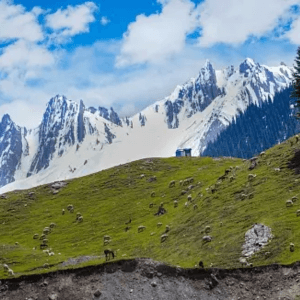 Best time to visit Pahalgam Kashmir
April to September is the best time to visit  Pahalgam. The temperature of Pahalgam during these months ranges from 20-27 degree . During this time the weather in Pahalgam remains pleasant  and you can explore the valley freely. The valley is adorned with lush green meadows, blooming flowers, and gushing rivers, creating a picturesque landscape that is a sight to behold. This time of the year is perfect for outdoor activities like trekking, camping, and horse riding, allowing visitors to explore the pristine beauty of the surrounding mountains and valleys. For current temperature in pahalgam you can check online to get accurate details.
How to Reach Pahalgam Kashmir
Where to Stay in Pahalgam
There are many hotels available in pahalgam, so you can book one as per your budget and requirement. Here is the list of best hotels in Pahalgam:
Radisson Golf Resort Pahalgam

The Chinar Resort & Spa Pahalgam

Hotel Hilltop Pahalgam

Volga Hotel Pahalgam

Hotel Heevan Pahalgam

Pahalgam Retreat

Royal Hillton Pahalgam

Hotel Pine Spring Pahalgam

Hotel Himalaya Discover Resorts
Tourist attractions in Pahalgam
Aru Valley is a beautiful tourist destination located around 12 kilometers from Pahalgam in the Anantnag district of Jammu and Kashmir, India. It is nestled amidst picturesque landscapes, surrounded by lush meadows, dense forests, and snow-capped peaks. Aru Valley is known for its scenic beauty and tranquil ambiance, making it a popular attraction for nature lovers and adventure enthusiasts. Surrounded by snow-capped mountains, the valley is adorned with vibrant meadows, dense pine forests, and glistening streams. The panoramic views are simply breathtaking, with each turn revealing a new and awe-inspiring vista. Angling enthusiasts can indulge in their favorite sport in the Lidder River, which is known for its abundance of trout. The river's crystal-clear waters and scenic surroundings make it an ideal spot for a day of fishing and relaxation.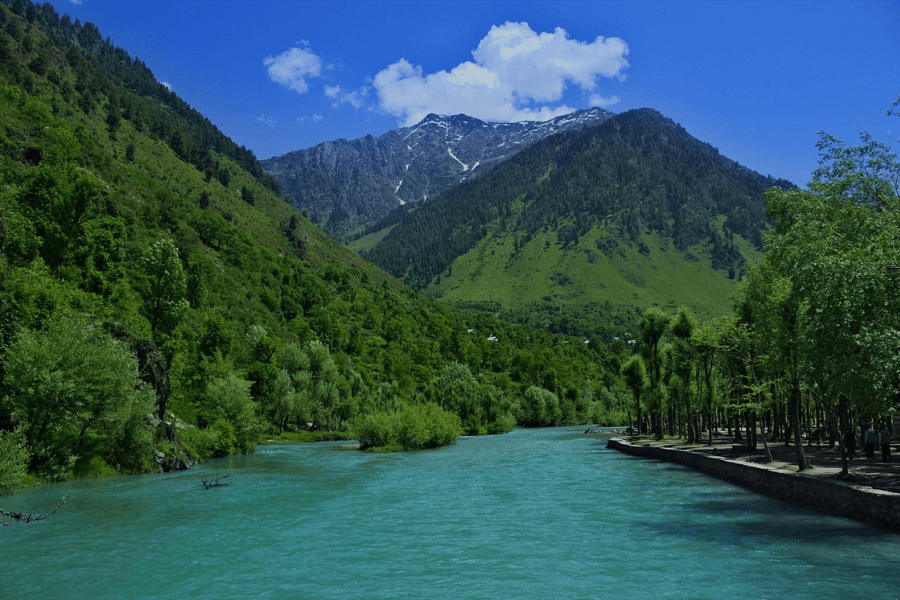 Betaab Valley is a picturesque tourist destination located near Pahalgam in the Anantnag district of Jammu and Kashmir, India. It is named after the Bollywood movie "Betaab" which was filmed there. Betaab Valley is known for its breathtaking natural beauty, serene surroundings, and enchanting landscapes. It is located in the Anantnag district of Jammu and Kashmir and is about 7 kilometers from the town of  Pahalgam. It was originally known as  Hagan Valley and got the name of  Betab valley Pahalgam from the popular Bollywood movie Betaab, which was filmed here in early 80's. The valley is surrounded by snow-capped mountains and is full of green meadows, streams, and forests. It is a popular tourist destination and is known for its scenic and picturesque beauty. The valley is also home to a number of wildlife species such as the snow leopard and brown bear. Betaab valley Kashmir in winter remains under thick layer of snow. The valley is located along the route to the famous Amarnath temple.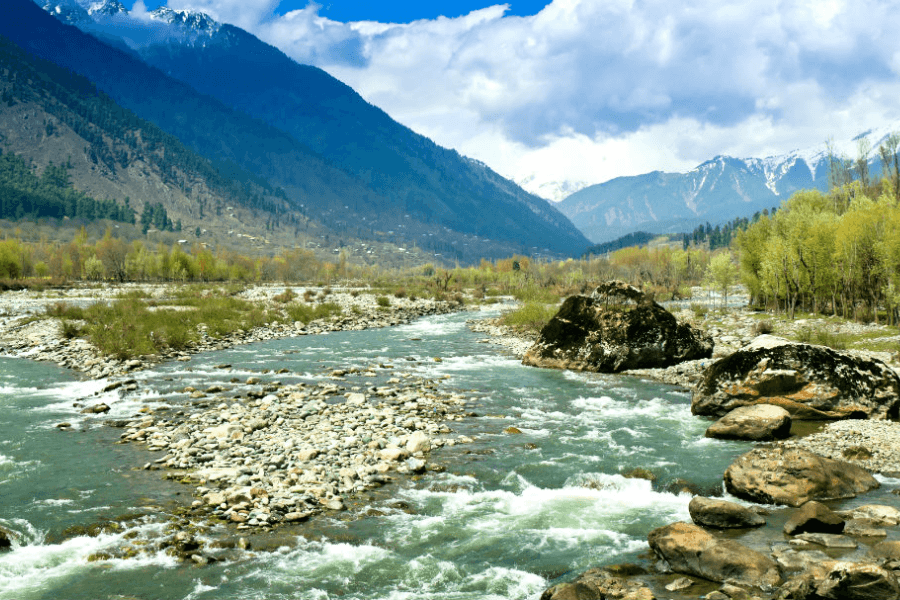 Chandanwari is a picturesque spot located around 16 kilometers from Pahalgam. It serves as the starting point for the Amarnath Yatra pilgrimage and provides stunning views of the mountains and glaciers. Surrounded by pristine beauty, it is a popular spot for nature enthusiasts and adventure seekers alike. The meandering Lidder River flowing through Chandanwari adds to the scenic beauty, providing a soothing backdrop for visitors to enjoy. Additionally, Chandanwari is known for its snow-covered slopes, making it an ideal destination for winter sports such as skiing and snowboarding.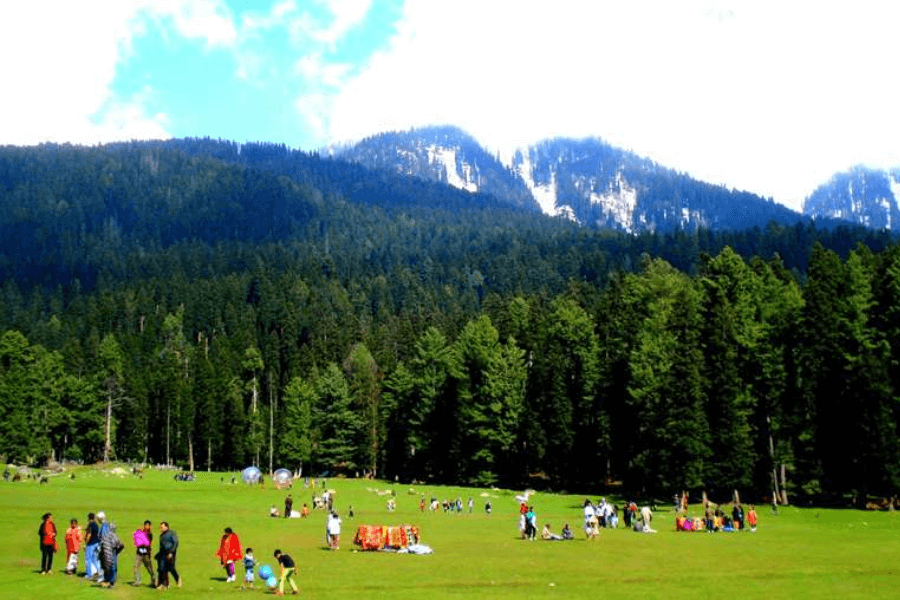 Baisaran Valley, also known as Mini Switzerland, is a breathtaking tourist destination located near Pahalgam in the Anantnag district of Jammu and Kashmir, India. It is a picturesque meadow surrounded by majestic mountains, lush greenery, and scenic landscapes. Baisaran Valley is renowned for its natural beauty and tranquil ambiance, offering visitors a serene and refreshing experience. Baisaran Valley is famous for its stunning landscapes and picturesque views. The meadow is carpeted with lush green grass, colorful flowers, and tall pine trees. The surrounding snow-capped mountains provide a stunning backdrop, creating a visual spectacle. Baisaran Valley is often referred to as Mini Switzerland due to its resemblance to the scenic landscapes of Switzerland. The pristine beauty and tranquility of the valley make it an enchanting destination for nature lovers and photographers.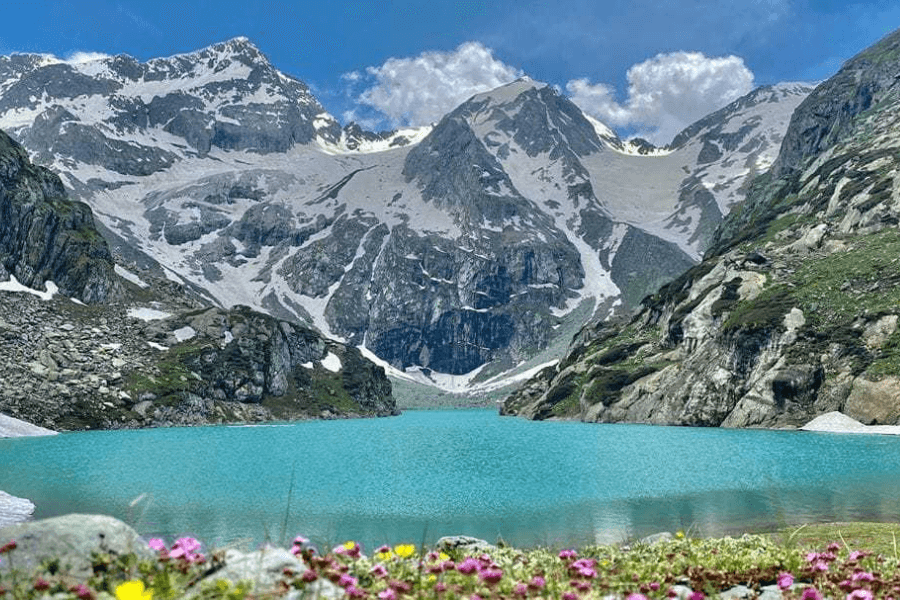 Tulian Lake is a beautiful high-altitude lake located near Pahalgam in the Anantnag district of Jammu and Kashmir, India. It is situated at an elevation of approximately 3,684 meters (12,080 feet) above sea level and is a popular destination for trekkers and nature enthusiasts. This sparkling blue water lake is sure to mesmerize you with its stunning beauty. Located at a distance of 8 km from Pahalgam, the way to this lake goes through Baisaran. Situated between Pir Panjal and the Zanskar mountain range, Tulian Lake is a must-see spot. Once again, you have to undertake a trek to reach this amazing beauty. Of course, there is always an alternative way of a pony ride. But the more adventurous kind would surely love the trekking part of it. Tulian Lake is a popular trekking destination. The trek to Tulian Lake usually starts from the Aru Valley or Lidderwat and takes you through beautiful meadows, dense forests, and rocky terrains. The trek offers stunning views of the surrounding Himalayan peaks and an opportunity to immerse yourself in nature.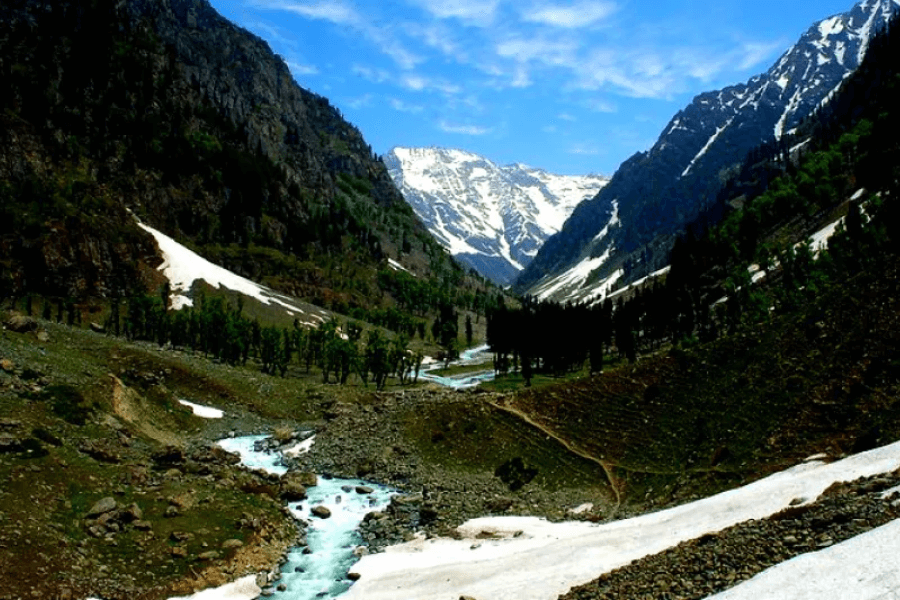 Embark on a trekking expedition to the Kolahoi Glacier, which is located near Pahalgam. The glacier is a breathtaking sight, nestled amidst the majestic Himalayan peaks. It's a challenging trek but offers rewarding views. Kolahoi Glacier is known for its stunning natural beauty. Surrounded by snow-capped peaks, rugged cliffs, and deep valleys, the glacier offers breathtaking views of the Himalayan landscape. It is also the source of the Lidder River, which flows through Pahalgam.Trekking to Kolahoi Glacier is a popular activity for adventure enthusiasts. The trek is challenging and requires proper planning, physical fitness, and acclimatization to high altitudes. The route usually starts from Aru Valley or Lidderwat and involves traversing through dense forests, meadows, and rocky terrain. The trek offers panoramic views of the surrounding mountains and the chance to witness the grandeur of the glacier up close.